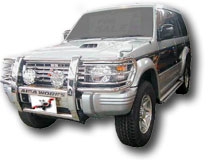 Buying Salvage Cars from Japan
Why do people all over the world (including countries with LHD traffic) buy RHD salvage cars from Japan? Mainly there are two reasons:
Re-building salvage cars
In this case, a salvage car is shipped as it is, either in a car ferry (ro/ro method) provided it can move on its own power (is drivable) or ship in a container. The biggest challenge with buying salvage cars from japan is making sure that you have all needed spare parts to rebuild and repair a car. Very few companies offer the option of supplying a salvage car with necessary spare parts and when they do they add high margins on the top of their purchasing costs and as a rule are slow since they have to buy parts from somebody else.
Japan Partner is in a unique position of being both salvage / used car supplier and supplier of used spare parts. We do not only offer our customer the choice of supplying them with needed spare parts for rebuilding a car but also do it "at a cost" without adding our profit margin since we strongly believe in repeat business and determined to established mutually profitable relationship. Some of our salvage cars come already with parts and for the rest that don't we can purchase them for you at a low cost through a network of dismantling facilities that is closed to a general public. If you are interested to buy and rebuild a car please check our stock for more details and check with our representative regarding availability of needed spare parts if you would also like us to supply you with spare parts.
Buying salvage cars for the parts
This mainly concerns courtiers with LHD traffic. Japanese salvage cars are considerably lower in price than let's say their American or European counterparts and it is sometimes better to buy the whole car rather than buy individual parts. For customers who would like to purchase our salvage cars for parts we offer two options:
a) Ship the car (as they are) either in a container or RO/RO method
b) Dismantle at our yard a salvage car that your are interested in and ship you only the parts which you need.
Japan Partner would be happy to assist you with any of the above mentioned services and be happy to answer your questions. If you have further questions please contact our representative at info@Japan-partner.com and we guarantee that you will hear from us within 24 hours. We look forward to working with you in the new year! Please check our stock for both used and salvage cars.