Company Profile
The Company
Japan Partner Inc. is one of Japan's largest and fastest growing exporters of used vehicles. We cover the whole range of vehicles, from fuel-efficient mini cars to sturdy buses and construction equipment.
Japan Partner has a corporate philosophy where the customer comes first. This philosophy made it possible to grow our customer base to 127,000 customers around the world within 10 year time. We provide the best service and solutions to our customers in many different ways.
Large stock of around 3,500 vehicles ensures ready availability of an enormous variety of high-quality vehicles which can be shipped within the shortest possible time.
Our auction systems (both USS and AUC-Net groups) provides access to over 90,000 vehicles per week while offering the most competitive prices in both commission and logistics.
Japan Partner Inc. has been steadily investing millions of dollars into its infrastructure to create an unmatched logistical services that now include dismantling, mechanical repairs, body repairs, maintenance, pre-shipment inspection, partial and complete paint work done in a professional paint booth, in-house container loading terminal capable of loading 2,190 containers per year, large capacity for RORO shipping (roll on and Roll off), its own land property used as parking lots, its own guest apartments and a great team of highly skilled specialists. As a result Japan Partner Inc. became the only export company in Japan that can offer ONE-STOP solution where you can not only purchase the vehicles but also do any vehicle related logistical work.
"ONE STOP SOLUTION" is our biggest competitive advantage compared to "Buy and Sell" companies or "Auction Agents" that either do not provide any logistical support or only partially outsource logistical work to third parties in a different locations at much higher prices.
Our international sales team is fluent in 6 languages, ensuring that communication is always smooth, efficient and convenient with our customers who are from 5 continents and more than 107 countries. Our representatives are not only professional in purchasing and logistics but also they can give a good advise with your local customs requirements and the least expensive way for you to import a particular vehicle.
Our Market Place – 107 Countries
Japan Partner Inc. prides itself to be a truly global corporation exporting vehicles to 107 countries to over 127,000 customers around the world. Our unmatched logistical capabilities enabled us to ship to virtually all major ports around the globe. Due to our unique business model of "one stop shopping" and philosophy were "the customer comes first" we were able to grow 225% every year and constantly increase number of countries that we could export to. We are always eager to incorporate the most effective shipping method where we can chose the best out of several available options.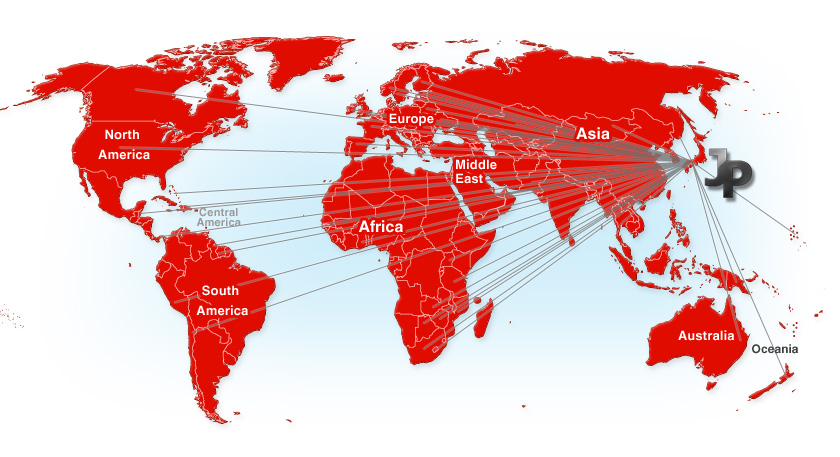 Currently we can ship to the below countries (if you cannot find your country please send us an email with that country and we will inform you regarding available shipping options
Angola – Republic of Angola
Anguilla ( UK overseas territory)
Antigua and Barbuda
Armenia Republic of Armenia
Australia Commonwealth of Australia
Bahamas, The Commonwealth of The Bahamas
Bahrain Kingdom of Bahrain
Bangladesh – People's Republic of Bangladesh
Barbados
Belarus – Republic of Belarus
Belize
Benin – Republic of Benin
Botswana – Republic of Botswana
Brunei – Negara Brunei Darussalam
Burundi – Republic of Burundi
Cambodia – Kingdom of Cambodia
Cameroon – Republic of Cameroon
Canada
Cayman Islands ( UK overseas territory)
Chile – Republic of Chile
China – People's Republic of China
Congo – Democratic Republic of the Congo
Congo – Republic of the Congo [16]
Cook Islands (Associated state of New Zealand )
Costa Rica – Republic of Costa Rica
Côte d'Ivoire – Republic of Côte d'Ivoire
Cyprus – Republic of Cyprus
Denmark – Kingdom of Denmark
Dominican Republic
Estonia – Republic of Estonia
Fiji – Republic of the Fiji Islands
Finland – Republic of Finland
France – French Republic
Gabon – Gabonese Republic
Gambia, The – Republic of The Gambia
Georgia
Germany – Federal Republic of Germany

Ghana – Republic of Ghana
Greece – Hellenic Republic
Guyana – Co-operative Republic of Guyana
Haiti – Republic of Haiti
Hong Kong – Hong Kong Special Administrative Region of the People's Republic of China (Area of special sovereignty)
India – Republic of India
Indonesia – Republic of Indonesia
Ireland - Republic of Ireland
Italy – Italian Republic
Jamaica
Japan
Jordan – Hashemite Kingdom of Jordan
Kazakhstan – Republic of Kazakhstan
Kenya – Republic of Kenya
Kiribati – Republic of Kiribati
Korea, South – Republic of Korea
Kuwait – State of Kuwait
Kyrgyzstan – Kyrgyz Republic
Latvia – Republic of Latvia
Lesotho – Kingdom of Lesotho
Liberia – Republic of Liberia
Lithuania – Republic of Lithuania
Macedonia – Republic of Macedonia[28]
Madagascar – Republic of Madagascar
Malawi – Republic of Malawi
Malaysia
Micronesia – Federated States of Micronesia
Mongolia
Mozambique – Republic of Mozambique
Myanmar – Union of Myanmar
Namibia – Republic of Namibia
Netherlands Antilles (Self-governing country in the Kingdom of the Netherlands )
New Caledonia – Territory of New Caledonia and Dependencies (French community sui generis)
New Zealand
Nigeria – Federal Republic of Nigeria
Norway – Kingdom of Norway

Pakistan – Islamic Republic of Pakistan
Panama – Republic of Panama
Papua New Guinea – Independent State of Papua New Guinea
Peru – Republic of Peru
Philippines – Republic of the Philippines
Poland – Republic of Poland
Russia – Russian Federation
Rwanda – Republic of Rwanda
Saint Kitts and Nevis – Federation of Saint Christopher and Nevis
Saint Lucia
Saint Martin – Collectivity of Saint Martin (French overseas collectivity)
Saint Vincent and the Grenadines
Saudi Arabia – Kingdom of Saudi Arabia
South Africa – Republic of South Africa
Spain – Kingdom of Spain
Sri Lanka – Democratic Socialist Republic of Sri Lanka
Suriname – Republic of Suriname
Swaziland – Kingdom of Swaziland
Sweden – Kingdom of Sweden
Tanzania – United Republic of Tanzania
Thailand – Kingdom of Thailand
Togo – Togolese Republic
Tonga – Kingdom of Tonga
Trinidad and Tobago – Republic of Trinidad and Tobago
Tuvalu
Uganda – Republic of Uganda
Ukraine
United Arab Emirates
United Kingdom – United Kingdom of Great Britain and Northern Ireland
United States – United States of America
Uzbekistan
Vietnam – Socialist Republic of Vietnam
Virgin Islands, British – British Virgin Islands ( UK overseas territory)
Zambia – Republic of Zambia
Zimbabwe – Republic of Zimbabwe
Our Services
Japan Partner Inc. prides itself of having a unique "One Stop Shopping" business model where we can provide all vehicle related services on the premises of our company. We can provide the following services:
Stock sales of over 3,500 vehicles and construction equipment available online and ready for shipment (clink here to read more)
Auction Agent: ability to access over 90,000 cars per week using both USS and AUC-Net auction systems (clink here to read more)
Yahoo Auction Service: Japan Partner Inc. provides a unique service for our customers of being able to purchase any goods directly from Yahoo Japan Auction (clink here to read more)
Exclusive exporter of Zele and Mine's new auto parts
Container Loading Services: We can provide container loading services for both 20ft and 40ft containers for any type of goods allowed by the law. We have a lording capacity of 2,190 containers per year (clink here to read more)
Painting Services: We can provide partial and complete painting and repainting services using experience specialists and professional painting booth available at our company yard (clink here to read more)
Body Work Services: We have experienced specialists and equipment at our premises to conduct any degree of body work upon your request (clink here to read more)
Steering Conversion: We can provide steering conversion services form RHD to LHD with unmatched quality (clink here to read more)
Pre-Shipping Inspection: Our experienced technical specialist's can inspect your car and make sure that it can be driven from day one of its arrival at your port
Logistical Services: We can move any type of goods from any place in Japan to our company for further loading into container and shipping to your desired destination (clink here to read more)
Consulting Services: We can help you purchase and ship any type of goods from Japan and will advise you the most cost effective way of doing it (clink here to read more)
Our Infrastructure
Inland Transportation
We have a well developed capabilities for a quick and cost effective pick up of any type of vehicles and commercial goods using either our own or partner's fleet of proper transporters. It provides us an unmatched flexibility and cost effectiveness with the delivery. We also have a specialized sports car "car carrier" that enables to transport any sports car with low down suspension
Parking Lots
Japan Partner Inc. owns its own parking areas equipped with state of the art video surveillance system making sure that all purchased vehicles are being watched and kept secure 24 hours a day. All our parking areas are located right near our main facility helping us to maximize efficiency of logistical work. Also with large car volume shipping we can delivery your purchased cars directly to our port parking lots for immediate shipping
CONTAINER LOADING TERMINAL
Over the years, we were constantly investing into our Container Loading Facility with the purpose of maximizing efficiency and cost reduction for logistical services for our customers. Currently we are one of the few companies in Japan who has Exporter and Customs license to be able to load containers directly at the yard of our company. Being able to load containers at our yard without the presence of customs officers considerably reduces the cost and time for loading work. After upgrading our container loading facility we can simultaneously load 2 containers with the daily capacity of 6 loaded containers per day. One of the biggest competitive advantages we can offer to our customers would be number of the cars we can load into the container (we can load more than our competition) and "mixed container loading" where in addition to 4-5 cars we can load other goods or another 2 dismantled cars, so shipping for these extra parts will be free for you. The port is only 15 minutes away from our yard that makes our container loading operations flexible and cost effective compared to our competition. Our fleet of 5 forklifts, mobile crane and licensed specialists enables us to conduct any required by our customers container loading work
Professional Painting Facility
We are proud to have professional automatic painting booth for partial or complete professional paint work . Our booth automatically maintains temperature that allows to speed up the process, shorten the time and do painting work around the year. Our painting services are available upon request for the customers who would like to renew the paint for the older vehicles or do complete re-paint job with same or different paint. In addition to our painting booth we have a state of the art paint mixing machine that can prepare needed paint according to original factory standard. Availability of this state of the art paint mixing machine in our company provides us with valuable time saving with paint jobs and makes it very convenient for our customers
Professional Body Frame Straightening Facility
This facility comes handy if you are purchasing less expensive damaged cars and you would like to ship these cars RO-RO (roll on roll off). It means that you need to make your car drivable so it can be driven into the car carrier vessel. Here we can help you using our frame straightening equipment where we can quickly and cost effectively make your car drivable so you could save on the shipping cost. We could also accommodate your request for complete repair of your purchased damaged car where we will do both body work and professional paint. This service also may be helpful for customers who require either JVEC, ITS, BIVAK inspections where the car needs to be close to the perfect body and paint condition
Pre-Shipping Inspection Facility
One of the most important parts in our business model is our pre-shipment inspection facility. From day one of existence of our company we did all possible in order to make sure that vehicles which are shipped leave Japan in the best possible condition so they can be driven right after it arrives at the destination port. Over the years we were constantly investing hundreds of thousand dollars into our pre-shipment inspection facilities in order to increase number of cars to be inspected and the depth of the inspection itself with the help of the state of the art computer diagnostics equipment. Inspection is conducted by our licensed mechanics
Satellite Auction Systems
From the very beginning we invested heavily into IT technology to make sure we have an effective auction cover all over Japan. With the help of our satellite auction system we have access to over 120 auctions nationwide (USS Group, AUC-net, I-AUC, Yahoo, Salvage Auctions) covering over 90,000 vehicles per week. We have access to complete range of the cars being auctioned starting from brand new Lexus brands and finishing with 100 USD cars which are perfect for parts. With our high tech equipment our customers can enjoy the convenience of purchasing directly from our offices since the market rules allows to purchase one out of 10 chosen cars with the needed budget and it wouldn't be efficient going to 10 different auctions with their remote locations and only purchasing one car
Guest Apartments and Utilities
Guest Apartments and Utilities Japan Partner Inc is one of the few companies that owns apartments on our company grounds for both our customers and our staff. For our regular customers we provide 2 room furnished apartment free of charge. Our apartments will conveniently suit our customers who would like to come here and personally buy cars for their markets. Some of our customers also bring their staff so they could oversee dismantling and container loading operations. We also have for our guests our corporate gym that you can attend right on the premises of our company. A large department store with grocery store is just around the corner of our company as well. Since we have around the clock operations, we have canteen right on the premises of our company
Operational Structure
Japan Partner is engaged in a full range of activities both inside of Japan and globally. We are constantly striving to maximize our operational efficiency and pass savings towards our customers in the form of low priced vehicles and parts. We have set the below mentioned organizational chart as a base for our operations: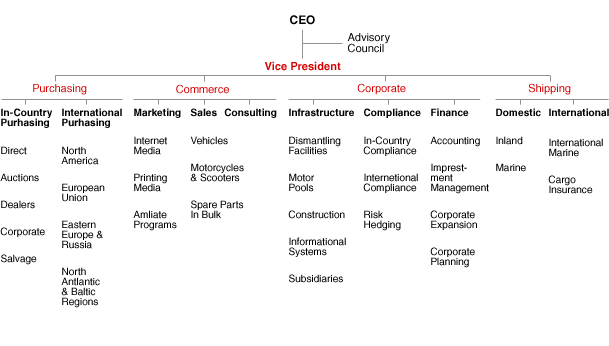 Company Information
Here is additional information about Japan Partner Inc.
Company Name:
Japan Partner Inc
Main line of business:
Export and import of motor-vehicles
Export of construction equipment (forklifts, excavators, cranes)
Export of used spare parts
Export of motorcycles and scooters
Export / Import Consulting
Market Entry and Marketing Consulting
Export of oil products
Other
Company Registration number:
NAGOYAHOMU439
President:
Bitari Yoshida, MBA
Address:
Japan, 455-0879, Aichi Prefecture, Nagoya City, Minato-ku, Hatanaka 2-150-1
Yard address:
Japan, 497-0043 Aichi-ken, Amagun, Kanie-cho, Shinchiaki, Ato-higashi 80-1
Main bank 1:
MUFG bank
Branch:
Shinnagoyaekimae branch (Branch #403)
Bank address:
450-6404, Nagoya, Nakamura-ku, Meiki 3-28-12
SWIFT:
BOTKJPJT
ACCOUNT NUMBER:
403-1384993
PAY TO:
Japan Partner Inc.
=======================================================
Main bank 2:
SUMITOMO MITSUI BANKING COPORATION
Branch:
NAGOYA BRANCH#481
Bank address:
2-18-24, NISHIKI, NAKA-KU, NAGOYA-SHI, AICHI, 460-0003, JAPAN
SWIFT:
SMBCJPJT
ACCOUNT NUMBER:
481-7830442
PAY TO:
Japan Partner Inc.
Phone:
for International dial: (81) 567-94-0015 - It is not working time now
for Domestic dial: 0567-94-0015 - It is not working time now
Fax:
(81) 567-94-0018
Email:
info@japan-partner.com
Web address:
www.japan-partner.com
Business conducted in:
Nagoya, Osaka, Tokyo, Yokohama, Chiba, Saitama, Shizuoka, Sapporo, Fukuoka, Hiroshima, and Kyushu
Languages Spoken:
English, Russian, Japanese, German, Polish, Kazakh, Kyrgyz and Tagalog
Main Marketplaces:
New Zealand, Australia, Bahamas, Suriname, Sri-lanka, Peru, USA, Canada, Kyrgyzstan, Kazakhstan, Tanzania, South Africva, Uganda, UAE, Saudi Arabia, Kuwait, U.K., Estonia, Netherlands, Poland, Germany, Belarus, Russia, Ukraine, Angola, Burundi, St. Kitties, Dominica, St. Lucia, Barbados, Grenada, Guyana, Suriname, British Virgin Islands, Basseterre, Cayman Islands.